My Team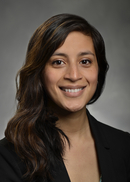 Rebeca R Heaton Juarez
Operations Manager
Office 414-271-3242

I am the overseer of our team's practice from speaking with policy owners directly about our process to planning client events, I take pride in what I can do for our clients and make sure you have the most positive experience with us.
Responsibilities include:
Underwriting process questions
Policy Owner Service needs
Organizing client service events
Running the day-to-day operations of Brett's practice
Rebeca graduated UW-Milwaukee in 2009 with her teaching certification in social studies and minor in Spanish. She has spent the past six years working in the non-profit/education sector as an educator and program manager.
In her free time Rebeca likes to workout (yoga and zumba), read, go on long hikes, and cook.